Introduction
Acronis developed a hard drive application called Seagate DiscWizard for Seagate and Maxtor. It can be downloaded and used to back up or clone the disk, transfer the hard drive to another, recover from a disaster, etc.
Although it is useful and easy to use as a disk cloning tool, its functionalities are restricted in a number of ways. Not to worry; we will offer a Seagate DiscWizard substitute later in this article. To learn more, continue reading!
What is Seagate DiscWizard for?
You may keep all the data on your computer safe and secure by using Seagate DiscWizard, a piece of software. Operating system, apps, settings, data, disks, and partitions can all be used to backup this software bundle.
Additionally, Seagate DiscWizard has the capability to implement recovery solutions in a disaster, such as losing data, accidentally deleting important files or directories, or having a complete hard disk crash.
As an added benefit, Seagate DiscWizard features a disk clone tool you can use to transfer all of your data, including the operating system and apps, as well as your documents and private settings, from your old hard drive housing your system and apps to your new hard drive.
You must note that the Seagate DiscWizard works only with Seagate and Maxtor drives which may require USB drive for bootable media creation.
How to Use Rescue Media Builder in Seagate DiscWizard?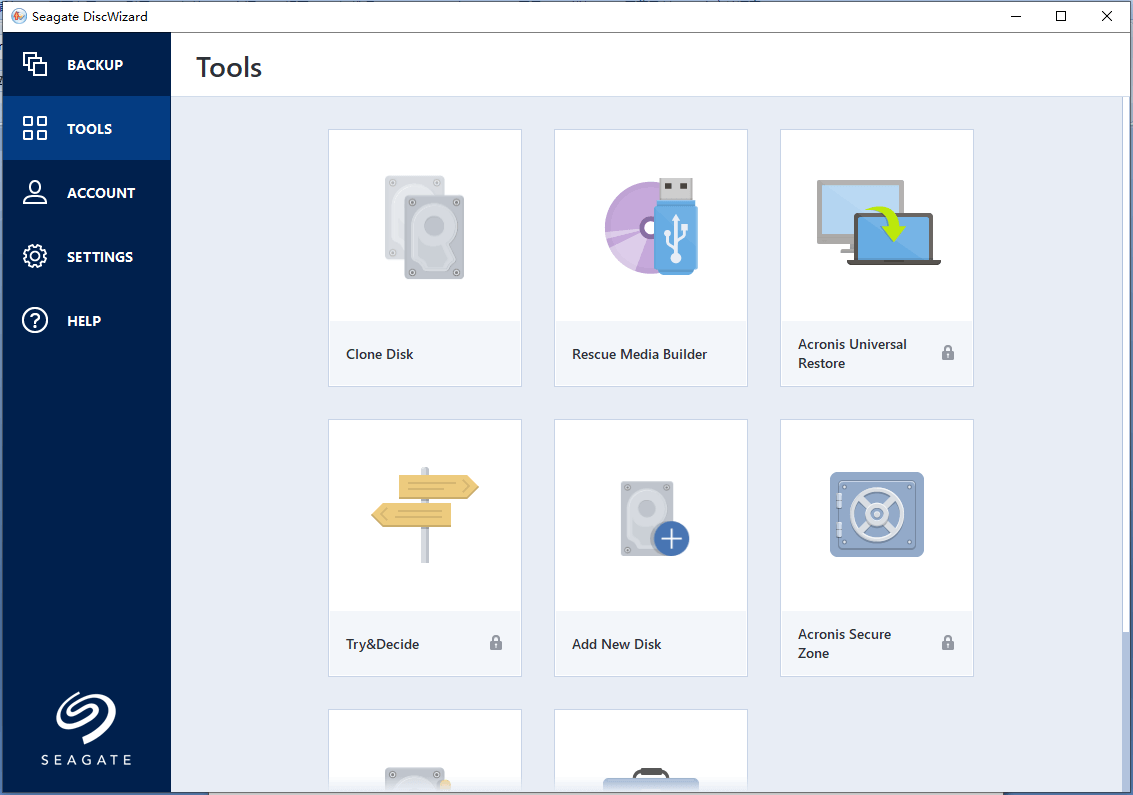 Important Information: The ISO won't fit on a typical 700 MB CD.
You will require a blank DVD+R/RW in order to make a bootable media disc.
If your computer lacks an optical drive, another alternative is to boot from a flash drive. The flash drive can be chosen in the Bootable Media Type Selection phase, or the DiscWizard.ISO file can be saved and burned to the flash drive using an image burning program. FAT32 formatting is required for the flash drive.
Steps: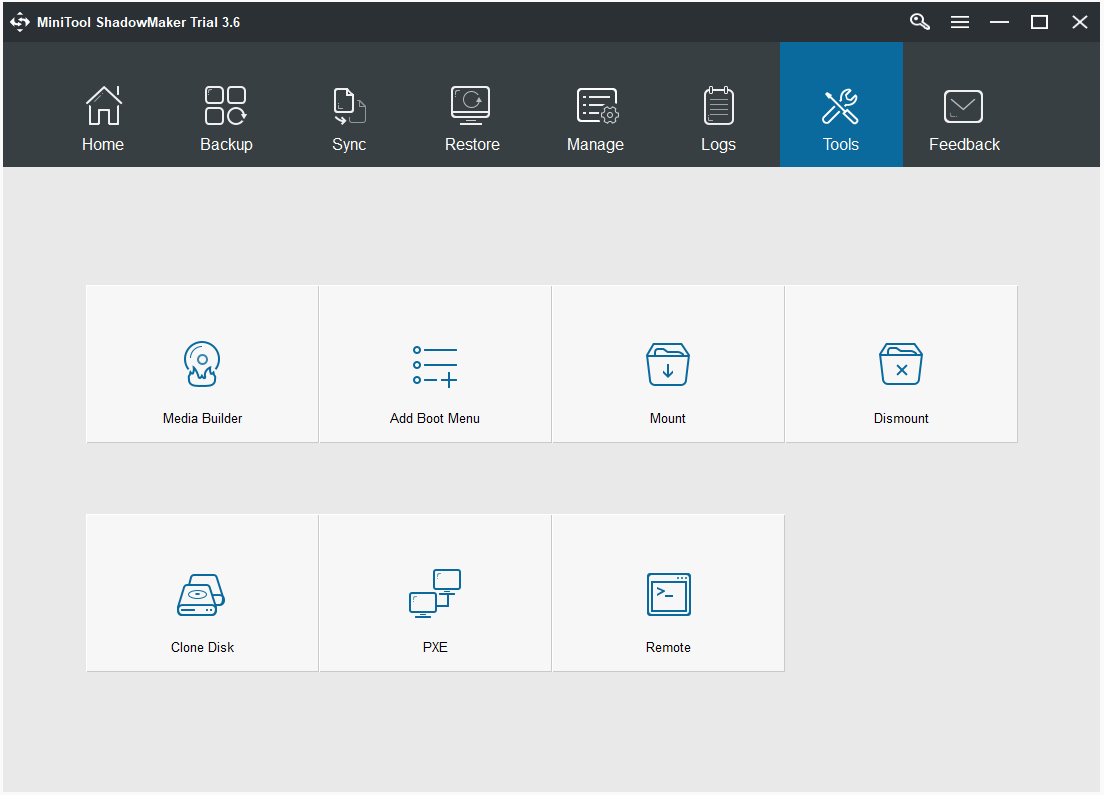 Click on the Tools option on the left side of the window while the DiscWizard software is open.
Select Rescue Media Builder by clicking.
Select Simple.
You can choose that as the destination if the computer has a blank DVD+R/RW or USB flash drive. You can choose ISO image to store the bootable media file to an other area, such as the desktop or an external disk, if you want to save it to burn on a separate machine.
Select "Continue"
The process will be shown in a status bar, and when it is finished, it will let you know.
You must change the boot order in your BIOS so that you may boot from a DVD. The BIOS can be accessed by pressing a specific key that is specific to each motherboard/computer manufacturer (such as F2, F12, Esc, etc.).
Once you've finished using the DiscWizard DVD to perform your work, make sure to take it out of the tray and reset the boot order to how it was originally set up.
How to Restore Image Backups with Seagate DiscWizard?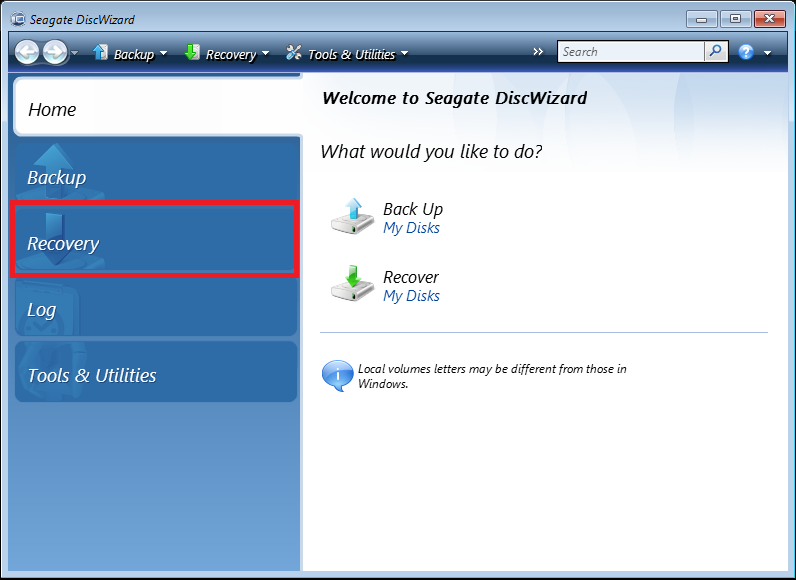 You'll need to do a system recovery, also known as a system restore, if your computer completely crashes. Reloading the operating system, programs, and data must all be done during this operation. An image backup (.TIB file) kept on a backup drive can be restored using disaster recovery software like DiscWizard.
Only the original computer on which a DiscWizard image backup was made can be used for its restoration.
Click the Backup option in the DiscWizard program once it has been launched.
Click on Recovery in the window's upper right corner after choosing the backup you want to restore.
Note: To add a backup if it isn't already there, click the arrow next to Add Backup at the bottom of the page.
The previously backed up files will be shown in the software. Select the Recover disks button at the bottom of the window to perform an image restore.
To begin the restore procedure, click Recover Now in the window's bottom right corner. A notice asking whether you are sure you want to delete the drive appears if the destination drive is not empty. To start the restore procedure, select Yes.
A status bar will show how the restore is doing.
The Image Restore might need to be finished with a reboot.
Once the image has been restored, boot from the Destination Disk where it was saved to ensure that it was successful.
Take note that Seagate comes with a Universal Restore feature which is free.
Does Seagate DiscWizard Work with Non-Seagate drives?
You may backup the entire hard drive, including the operating system and applications, with the aid of the backup and cloning software Seagate DiscWizard. When the OS is unable to boot, it may also make bootable rescue discs, which is helpful.
You can backup, restore, and recover your data using Seagate DiscWizard because it includes all the features and tools you require. Customers claim that Seagate DiscWizard does not recognize drives, though. You should be aware that only Seagate and Maxtor drives are compatible with the Seagate DiscWizard.
A disk cloning program named Seagate DiscWizard is pre-installed on Seagate hard drives and enables you to clone an entire hard drive on Windows XP/7/8/8.1/10 without the need for additional software.
Seagate DiscWizard Alternative – MiniTool ShadowMaker, alternatively, is a piece of professional Windows 10 backup software. You might look for how to download Seagate DiscWizard for Windows 10, and 11, and how to use the alternative to Seagate DiscWizard for clone and backup.
How to Perform Clone with Seagate DiscWizard?
You may migrate your operating system, applications, and data from one drive to another using the included Seagate DiscWizard program without having to restart your computer. The following are some tips for using this software:
The clone functionality can be used to copy the entire disk rather than just one partition. The dynamic disk, however, cannot be duplicated. The primary disk is the only disk that can be cloned.
Step1: First, download and launch the Seagate DiscWizard program.
Step 2: Select the Tools tab from the left-hand panel.
Step 3: From the menu, choose the Clone Disk option.
Step 4: Select the clone mode you want to use: Automatic or Manual. And then click on the Next button.
Step5: Pick the source hard drive from the drive list in step 5 before moving on to the next phase. Choose the disk you want to copy, then click Next.
Step 6: Select a final destination disk and click Next. Verify the requests in the resulting window.
Note:
It is strongly suggested not to format your source disk or discard it after the clone until you are confident that the new disk boots properly.
Seagate DiscWizard Download
Get Seagate DiscWizard for your PC for Free. Click the button below to get the latest version.